End Of Winter Sale 20% Off Everything
Discount automatically applied at check out.
MadOne clothing design is an evolving New Zealand clothing brand with new designs being added on a regular basis.  
Our passion is to produce sophisticated everyday wear that will complement every shape and size.  We source the highest quality fabrics available.  
Everything made from MadOne clothing is made in small batches and in limited numbers therefore you can be assured that nothing is over produced.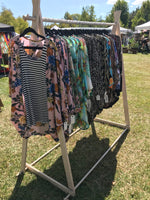 Where You Can Next See Us
Sat 31st July - Managwhai Tavern Market
Sat 7th Aug - Managwhai Tavern Market
Sat 14th Aug - Mangawhai Tavern Market
Sun 15th Aug - General Collective ASB Showgrounds
Sat 21st Aug - Mangawhai Tavern Market
Sat 28th Aug - Mangawhai Tavern Market
Sat 4th Sept - Mangawhai Tavern Market